---
"Lord, grant that I may always desire more than I accomplish."
Michelangelo di Lodovico Buonarroti Simoni
Painter, sculptor, architect and poet Michelangelo di Lodovico Buonarroti Simoni (March 6, 1475 to February 18, 1564) is considered one of the most famous artists of the Italian Renaissance, with works including the "David" and "Pieta" statues and the ceiling paintings of Rome's Sistine Chapel, including the "Last Judgment." Born to a family of moderate means in the banking business, Michelangelo became an apprentice to a painter before studying in the sculpture gardens of the powerful Medici family. What followed was a remarkable career as an artist, recognized in his own time for his artistic virtuosity. Although he always considered himself a Florentine, Michelangelo lived most of his life in Rome, where he died at age 88.
---
Leonardo da Vinci
Leonardo da Vinci (1452-1519) was a painter, architect, inventor, and student of all things scientific. His natural genius crossed so many disciplines that he epitomized the term "Renaissance man." Today he remains best known for his art, including two paintings that remain among the world's most famous and admired, Mona Lisa and The Last Supper. Art, da Vinci believed, was indisputably connected with science and nature. Largely self-educated, he filled dozens of secret notebooks with inventions, observations and theories about pursuits from aeronautics to anatomy. But the rest of the world was just beginning to share knowledge in books made with moveable type, and the concepts expressed in his notebooks were often difficult to interpret. As a result, though he was lauded in his time as a great artist, his contemporaries often did not fully appreciate his genius—the combination of intellect and imagination that allowed him to create, at least on paper, such inventions as the bicycle, the helicopter and an airplane based on the physiology and flying capability of a bat.
---
Leonardo da Vinci's Notebooks
Leonardo da Vinci (1452–1519) seems to have begun recording his thoughts in notebooks from the mid-1480s. When he died at Amboise in 1519, he left all his drawings, papers and notebooks to his assistant, Francesco Melzi (1491/3–about 1570), who took them back to Milan.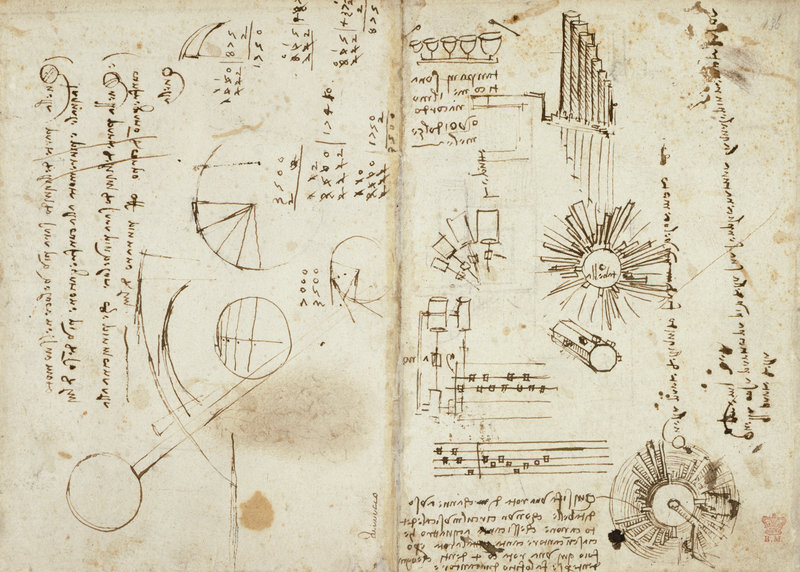 ---
Titian (Tiziano Vecellio)
Titian was the greatest painter of 16th-century Venice, and the first painter to have a mainly international clientele. During his long career, he experimented with many different styles of painting which embody the development of art during his epoch.
Youth and debut
Titian (Tiziano Vecellio) was born in Pieve di Cadore, a small town at the foot of the Dolomites on the Venetian side of the Alps. The Vecellios had been based in Cadore since the 14th century. Titian's father, Gregorio, was a military man. His older brother Francesco was also a painter. There is still no documentary evidence of Titian's exact date of birth, but contemporary sources and his early stylistic development suggest that he was born around 1490.
---
Raffaello Sanzio
ITALIAN PAINTER AND ARCHITECT
Raphael, Italian in full Raffaello Sanzio or Raffaello Santi (born April 6, 1483, Urbino, Duchy of Urbino [Italy]—died April 6, 1520, Rome, Papal States [Italy]), master painter and architect of the Italian High Renaissance. Raphael is best known for his Madonnas and for his large figure compositions in the Vatican. His work is admired for its clarity of form and ease of composition and for its visual achievement of the Neoplatonic ideal of human grandeur.
---
Johannes Gutenberg, in full Johann Gensfleisch zur Laden zum Gutenberg (born 14th century, Mainz [Germany]—died probably February 3, 1468, Mainz), German craftsman and inventor who originated a method of printing from movable type that was used without important change until the 20th century. The unique elements of his invention consisted of a mold, with punch-stamped matrices (metal prisms used to mold the face of the type) with which type could be cast precisely and in large quantities; a type-metal alloy; a new press, derived from those used in wine making, papermaking, and bookbinding; and an oil-based printing ink. None of these features existed in Chinese or Korean printing, or in the existing European technique of stamping letters on various surfaces, or in woodblock printing.
---
Albrecht Dürer (1471–1528)
A supremely gifted and versatile German artist of the Renaissance period, Albrecht Dürer (1471–1528) was born in the Franconian city of Nuremberg, one of the strongest artistic and commercial centers in Europe during the fifteenth and sixteenth centuries. He was a brilliant painter draftsman, and writer, though his first and probably greatest artistic impact was in the medium of printmaking.
Dürer apprenticed with his father, who was a goldsmith, and with the local painter Michael Wolgemut, whose workshop produced woodcut illustrations for major books and publications. An admirer of his compatriot Martin Schongauer, Dürer revolutionized printmaking, elevating it to the level of an independent art form. He expanded its tonal and dramatic range, and provided the imagery with a new conceptual foundation. By the age of thirty, Dürer had completed or begun three of his most famous series of woodcuts on religious subjects: The Apocalypse (1498; 19.73.209, 18.65.8), the Large Woodcut Passion cycle (ca. 1497–1500), and the Life of the Virgin (begun 1500). He went on to produce independent prints, such as the engraving Adam and Eve (1504; 19.73.1), and small, self-contained groups of images, such as the so-called Meisterstiche (master engravings) featuring Knight, Death, and the Devil (1513; 43.106.2), Saint Jerome in His Study (1514), and Melencolia I (1514; 43.106.1), which were intended more for connoisseurs and collectors than for popular devotion. Their technical virtuosity, intellectual scope, and psychological depth were unmatched by earlier printed work.
---
The term "Renaissance man" comes from fifteenth-century Italy and refers to the idea of a person with knowledge and skills in a number of different areas. Perhaps, no single individual defines the idea of a Renaissance man better than Leonardo da Vinci – an artist, scientist, architect, engineer and inventor.
Though Leonardo da Vinci may be most famous for his works as an artist, he actually spent quite a bit more time working on his endeavors in science and technology. Of course, his detailed sketches and distinct artistry played a large role in his inventions, and his sketchbooks later provided evidence that da Vinci had envisioned many ideas long before the technology to build them actually existed.
One of the most prolific inventors in history, Leonardo da Vinci dreamed up inventions and innovations across a variety of fields. Whether designing weapons of war, flying machines, water systems or work tools, da Vinci the inventor (much like da Vinci the artist) was never afraid to look beyond traditional thinking or "dream big".
---
Scientific Books
Antiquarian science books are original historical works (e.g., books or technical papers) concerning science, mathematicsand sometimes engineering. These books are important primary references for the study of the history of science and technology, they can provide valuable insights into the historical development of the various fields of scientific inquiry (History of science, History of mathematics, etc.)
---
Newspapers
The Prominent and Prodigiously Popular Poor Richard – By Lisa Morgan, Summer 2008
Throughout Benjamin Franklin's long and distinguished life, he achieved success and notoriety as a printer, author, postmaster, inventor and scientist, statesman and diplomat, and sage. But perhaps the most memorable contribution Franklin made to Americana was Poor Richard's Almanack, which proved itself a brilliant success among its contemporaries and endures as a lasting legacy to the American ideals of morality, frugality, industry, and humor.
---
Harper's BAZAAR is a world-renowned arbiter of fashion and good taste. Since its inception in 1867 as America's first fashion magazine, BAZAAR has been home to extraordinary talents of Man Ray and Richard Avedon, and continues that tradition today with photographers including Peter Lindbergh and Sølve Sundsbø.
Sophisticated, elegant and provocative, Harper's BAZAAR is the style resource for women who are the first to buy the best, from casual to couture. With style, authority and insider insight, BAZAAR focuses strictly on fashion and beauty, and covers what's new to what's next.
Month after month, Harper's BAZAAR showcases the world's most visionary stylists and talented designers, to deliver readers a visually stunning portrayal of the world of fashion and beauty.
BAZAAR is available in 43 countries around the globe.
---
THE HISTORY OF LITHOGRAPHY Alois Senefelder invented lithography in 1798. From its modest beginnings, it has become one of the largest industries in the United States—a part of the Printing Industry, which is the third largest manufacturing industry in the U.S. For many years, indeed over a century and a half, lithography was a very small segment of the printing industry, used mainly by artists to produce prints. However, during the late 1800's and throughout the twentieth century, great advancements in technology made lithography into the most popular form of printing in the United States. The history of lithography occurred in four major steps: 1) The invention and early use of the process; 2) The introduction of photography to the process; 3) The addition of the offset press to the process; 4) The revolution of the lithographic plate.
---
The 50 years following the Civil War have been called the period of "chromo civilization" in America. Millions of chromolithographs were made, and they became the customary decoration in most homes throughout the country –what print historian Peter Marzio calls "the core of American life." One of the great appeals of chromolithography was its low production costs, allowing thousands of bright, attractive colored to be sold inexpensively, bringing glimpses of grand art within reach of the masses. But chromolithography was much more than this. Through chromolithography, historical events were graphically depicted, American views were spread far and wide, and all aspects of American life were vividly documented. Alongside these pragmatic purposes, artists employed the process to create prints that very closely followed their artistic vision, and many chromolithographs, which were produced using heavy oil-based inks, closely duplicated the appearance of actual oil paintings. 
---
History of photography, method of recording the image of an object through the action of light, or related radiation, on a light-sensitive material. The word, derived from the Greek photos ("light") and graphein ("to draw"), was first used in the 1830s.
---
March 7th 1765: Birth of Joseph Niépce in Chalon-sur-Saône (he will change his name to Nicéphore later). His father is a King counseller and deposits collector for Chalonnais. He has one sister & two brothers.
• 1786: Joseph studies in Angers at the Oratorian Brothers. Physics and Chemistry are his passions.
• 1788: Leaves the Oratoire and enlists in the National Guard in Chalon-sur-Saône.
He signs his letters using Nicéphore as a first name.
• 1789: French Revolution.
• 1792: Enlistment in the Revolutionary Army (south of France & Sardinia campaigns).
• 1794: Nicéphore leaves the Army and lives in Nice. He gets married. His elder brother Claude comes to join him.
• 1795: Birth of his son Isidore.
---
Louis Jacques Mande DAGUERRE (1787-1851)
The daguerreotype process was the first practicable method of obtaining permanent images with a camera. The man who gave his name to the process and perfected the method of producing direct positive images on a silver-coated copper plate was Louis Jacques Mande Daguerre, a French artist and scenic painter. Daguerre had began experimenting with ways of fixing the images formed by the camera obscura around 1824, but in 1829 he entered into partnership with Joseph Nicephore Niepce (1765-1833), a French amateur scientist and inventor who, in 1826, had succeeded in securing a picture of the view from his window by using a a camera obscura and a pewter plate coated with bitumen. Niepce called his picture-making process heliography ("sun drawing"), but although he had managed to produce a permanent image using a camera, the exposure time was around 8 hours. Niepce later abandoned pewter plates in favour of silver-plated sheets of copper and discovered that the vapour from iodine reacted with the silver coating to produce silver iodide, a light sensitive compound.
---
William Henry Fox Talbot (1800–1877) and the Invention of Photography
A young English gentleman on his honeymoon sat sketching by the shore of Lake Como early in October 1833, one eye pressed close to a camera lucida. With this simple draftsman's aid, consisting of an adjustable metal arm fastened at one end to the artist's sketchbook or drawing board and supporting a glass prism at the other, the young man saw a refracted image of the Italian landscape superimposed as if by magic on the pages of his sketchbook. It seemed a simple task to trace the features of the village buildings, lake, and distant mountains with his pencil. But alas, it only seemed simple, he later recalled, "for when the eye was removed from the prism—in which all looked beautiful—I found that the faithless pencil had only left traces on the paper melancholy to behold."
---
Casting Metal Type from Dave Keyes on Vimeo.
Traditional letterpress printing requires physical letters, cast from metal or carved from wood, which get inked and pressed into paper to make a print. In the next two blog posts, we'll take an introductory look into how these letters get made.
First up, metal type!
https://www.stbrigidpress.net/blog/how-type-is-made-part-1
---
Industrial Revolution
A rotary printing press is a printing press in which the images to be printed are curved around a cylinder. Printing can be done on a large number of substrates, including paper, cardboard, and plastic. Substrates can be sheet feed or unwound on a continuous roll through the press to be printed and further modified if required (e.g. die cut, overprint varnished, embossed). Printing presses that use continuous rolls are sometimes referred to as "web presses".
---
Celebrating Linotype, 125 Years Since Its Debut
Around for a century, Linotype machines were made obsolete in the 1970s by changing technologies — but they have not been forgotten
To embark on Linotype was to embark on greatness. Linotype machines powered newspapers, factories, a whole industry that was as American as any and existed for a century, at least until the tides of technology wiped it out as an occupation in the 1960s and 1970s — and now, Linotype is nearly extinguished from American memory. Yet Thomas Edison, it's said, called the machine the Eighth Wonder of the World (no faint praise from the man who invented the light bulb). This fabled technology, this wonder, once occupied the imagination of countless people in our nation's past.
---
Edison
Tesla
Muybridge
---